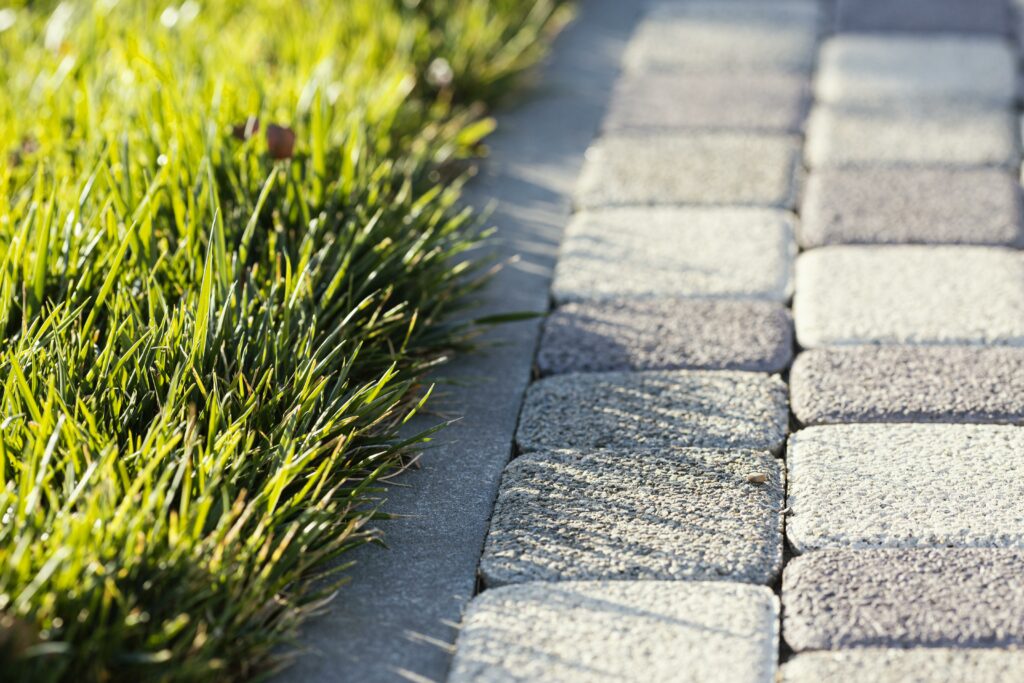 Whether you're hoping to create a private backyard oasis to spend your summers in or a beautiful outdoor space perfect for entertaining all of your favorite people, pavers are a great option for your yard. Not only are they extremely versatile, coming in a wide variety of shapes, colors, materials, and styles, but they have many different uses and help to make your yard look attractive, intentional, and carefully designed. There's a paver style for every taste, from country cottages to modern sophistication, and there are plenty of options for how to utilize them! Here are some of our favorites here at Keen Masonry.
Charming Pathways
Lead the way through your yard with paver pathways that will help to protect bare feet and encourage guests to stay off the lawn. Paver pathways can be done in a variety of styles, from spaced-out flagstones that allow grass and plants to sprout in between, to paver islands in a river of gravel for a low maintenance look, to full solid pathways with complex patterns of squares, rectangles, or other shapes. Whatever you choose, it's sure to put you on a path to good things!
Sprawling Patios
Create the perfect place to lounge with a book, host an open air party, or grill up a delicious meal with a backyard patio. Pavers for patios are available in a wide range of sizes, allowing you to customize your look between small stones with detailed designs or large pavers with a simple, modern look.
Curb Appeal
While a driveway made completely out of pavers isn't a practical choice for many homeowners, they still make a great stylistic accent that can improve the look and curb appeal of your home! A few simple rows of pavers at the end of your driveway in a color that coordinates well with the rest of your outdoor styling can serve as a visual welcome mat, giving your home just the pop it needs to really shine!
Multi-Level Landscaping
Retaining walls and elegant stairs are the perfect way to spice up a flat, boring yard, or to accent a yard that already has interesting topography to it. Not only can adding these features class up your outdoor space and give you more dedicated areas for planting, but it can also keep your backyard a little safer by making it easier to traverse the different levels, and replacing hills and dangerous slopes with stairs that are simple to navigate for residents and guests!
Stylish Fire Pits
What could be better than spending an evening toasting treats and sharing laughs around an open fire with people you love? You can do it right in your own backyard with a beautiful fire pit made of standout pavers. Let this feature stand by itself or match it with the pavers of a patio so that the structure appears to sprout up from the ground itself! Whatever you choose, it's sure to become a staple of all your summer hangouts going forward.
This list of ideas is only scratching the surface of the beautiful backyard creations that pavers can be a part of! If you're interested in adding any of these features to your home, or you have another idea not listed here that you'd like to discuss, make sure to contact Keen Masonry in New Tripoli, PA today! We'll be happy to help you.